Nebraska Unicameral 2023
LB 626 Nebraska Heartbeat Act Advances to Second Round of Debate!
On Wednesday, April 12, LB 626 the Nebraska Heartbeat Act was advanced with a 33-16 vote after overcoming an 8 hour filibuster in the Nebraska Legislature! We needed exactly 33 votes to end the filibuster to advance the bill. It was a historic day for the pro-life movement and your prayers and advocacy for the preborn made all the difference.
This was an important step in creating a culture of life and protecting women, families and preborn babies in our state. Nebraska Right to Life will update you when the bill is scheduled for the second round of debate in the Nebraska Legislature so you know to contact your senators again. We are so grateful for the strong proponents in our legislature who bravely stand for life! Check how your senator voted here and be sure to write a message of thanks to those who voted for LB 626. A heartbeat is a universal sign of life, and it is evident Nebraskans are committed to protecting preborn babies with beating hearts!
LB933 Fails to Advance by 2 Votes
The Nebraska Legislature spent much of the day on Wednesday debating LB933, the Nebraska Human Life Protection Act. Opponents organized an 8 hour filibuster until a cloture vote failed to advance the bill falling 2 votes short – final 31 to 15.
LB933, referred to as a "trigger ban" would only go into effect once the U.S. Supreme Court overturns the Roe vs. Wade decision, which is expected sometime in late June or early July. The reversal of this 1973 decision would not immediately outlaw abortion but would return abortion policy and laws to the governance of state legislatures.
Thank you to the pro-life senators who worked so passionately on this legislation, most notably lead sponsor Senator Joni Albrecht and Senator Mike Hilgers who prioritized the bill. Our appreciation to the many pro-life supporters who contacted their senators, offered prayer, spread the message and attended the hearing and debate.
While we are obviously disappointed, we believe a mother and her child are worthy of love and support and will continue our work with education, legislative efforts and political action until every life is protected and honored in our state.
See how your senator voted here.
Action Alert on LB933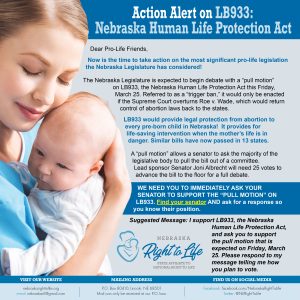 Federal Legislation
Care For Her Act
Congressman, Jeff Fortenberry, serving the 1st Congressional District of Nebraska, introduced his innovative Care For Her Act to ensure a community of care for the journey of life. He was joined by nine other cosponsors, including Congresswoman Young Kim (CA-39), Congresswoman María Elvira Salazar (FL-27), Congressman Blake Moore (UT -01, Congresswoman Jenniffer González-Colón (PR-AL), Congresswoman Elise Stefanik (NV-21), Congresswoman Liz Cheney (WY-AL), Congresswoman Claudia Tenney (NY-22), and Congresswoman Ann Wagner (MO-2)
"I am pleased that so many of my colleagues are joining with me to say we should be big enough and generous enough to care for a woman and her child who need help in times of vulnerability. This is our chance to support a woman with an unexpected pregnancy all the way through birth and child-rearing. Care for Her establishes a community of care for the journey of life," Congressman Fortenberry said.
Fortenberry added "Care for Her ensures women know what services and support are available to them, including maternity housing, mentorship, and job training. It provides a tax credit to the pregnant mother with a pre-born child. And it provides performance incentives for communities that demonstrate improved maternal and child health outcomes."
Text of Care for Her Act (click on PDF at link): https://fortenberry.house.gov/news/in-the-news/care-her-act
Hyde Amendment
What is the Hyde Amendment? This amendment prohibits federal funding of abortions, and as a rider to the HHS appropriations bill, must be passed each year. There have been various iterations of the amendment's language over the past 40 years, but the current version includes exceptions that allow Medicaid funds to be used for abortions in cases of rape, incest, or the health of the mother – but all other federal taxpayer funding of abortion is banned.
Is the Hyde Amendment Constitutional? Taxpayer funding of abortion by abandoning the Hyde Amendment is a significant shift and leap from Roe v. Wade that the government is not obligated to take. Roe did not establish a positive right to an abortion and therefore the government has no obligation to finance that abortion for any woman choosing to have one at any point in her pregnancy.
Does the Hyde Amendment expand restrictions on abortion? The Hyde Amendment has been a unique compromise by Americans on all sides of the abortion debate, declaring that because abortion is so controversial, our federal tax dollars should not be used to end unborn because of her poor financial status.
"For the People Act of 2021" – H.R. 1 passed in the U.S. House of Representatives Wednesday, March 3, 2021. The legislation now heads to the Senate. It will require 60 votes to advance. v HR1 would federalize and micromanage the election process, imposing unnecessary, unwise, and unconstitutional mandates on the state. v It would reverse the decentralization of the American election process – which is an essential protection of our liberty and freedom. v It would also implement nationwide the worst changes in election rules that occurred in 2020 and further damage or eliminate base security protocols.
H.R. 5 – "Equality Act of 2021" – H.R. 5 poses a significant pro-life threat. It amends the 1964 Civil Rights Act, adding language that could be used to make abortions more available, expand funding of abortion and weaken conscience protections for health care providers opposed to participating in abortion. v HR5 would give the government the power to dictate how Americans think and act regarding gender and sex. It would make discrimination the law of the land by forcing Americans to conform to government-mandated beliefs under the threat of life-ruining financial and criminal penalties.
Senator Ben Sasse Ph: 202-224-4224 Senator Deb Fischer Ph: 202-224-6551 Email your Representatives using their contact forms online.
Congressman Jeff Fortenberry Ph: 202-225-4806 Congressman Don Bacon Ph: 202-225-4155 ü Congressman Adrian Smith Ph: 202-225-6435 ACTION ALERT:
Call your elected officials and respectfully ask them to oppose these federal bills!